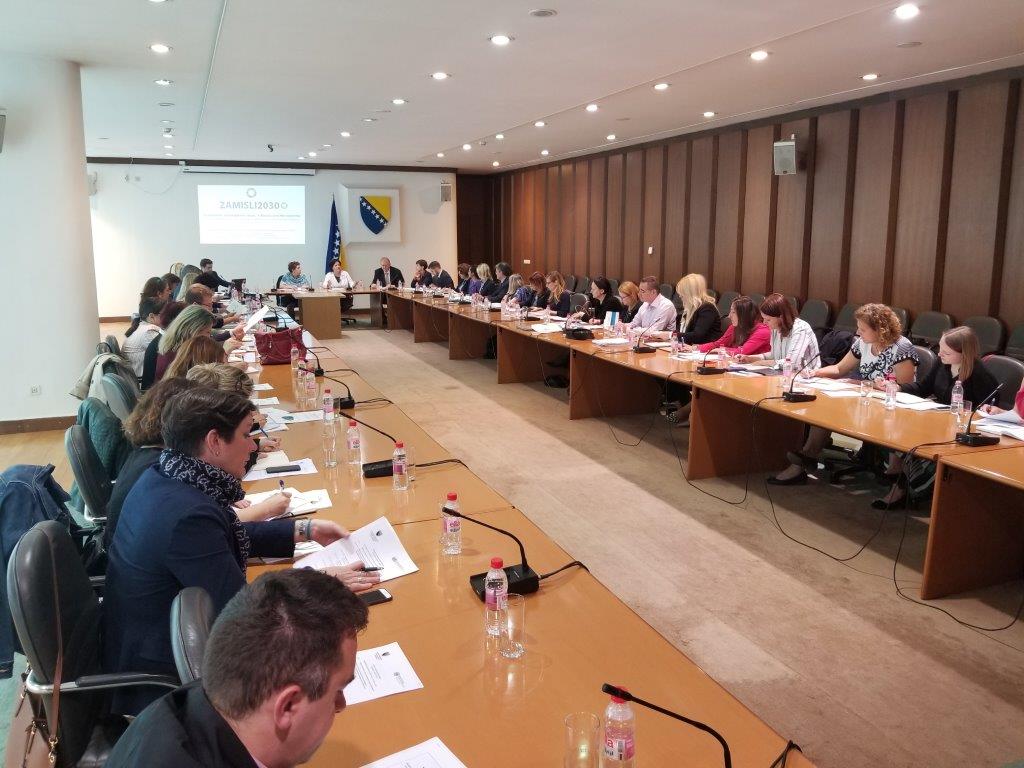 The meeting was held of Donor Coordination Forum in BiH
Announcement, 06/06/2019
Ministry of Finance and Treasury of BiH / Sector for Financial Planning of Development Coordination of International Economic Aid, organized in Sarajevo the regular meeting of the Donor Coordination Forum (DCF) on Thursday, June 06th, 2019. The meeting was co-chaired bythe United Nations in Bosnia and Herzegovina.
At today's DCF meeting, Ms. Sezin Sinanoglu, UN Resident Coordinator and the UN Country Team in BiH, presented the key aspects of ongoing reform of the UN Development System and facilitated brief discussion on how this reform is impacting the partnerships with the national and international stakeholders in Bosnia and Herzegovina. In May 2018, the UN General Assembly passed the resolution on repositioning of the UN Development System with the overall objective of making the UN Development System more fit to support implementation of the 2030 Agenda and the SDGs.  This reform engages various aspects of the UN Development System with the aim of increasing the efficiency and effectiveness of the UN Development System while strengthening its collective capacity and knowledge to adequately assist the Members States in their efforts to achieve the SDGs. 
In September 2015, BiH together with other UN Member States adopted Transforming Our World: The 2030 Agenda for Sustainable Development (Agenda 2030) and the Sustainable Development Goals (SDGs) as its global monitoring framework for transformative, people-centred, rights-based commitments for ending poverty and protecting the planet.  Following the formal adoption, BiH has initiated the process to localize and prioritize SDGs and its targets in its own context through the established SDGs Working Group in BiH, composed of representatives of relevant authorities in BiH, supported by the UN in BiH. At today's DCF meeting, SDGs Working Group representatives informed the DCF members on their past work and results as well as the upcoming activities.  DCF members also discussed the opportunities to strengthen the support to the work of the SDGs Working Group and accelerate the SDGs implementation in Bosnia and Herzegovina.
At the Tour de table, representatives from domestic institutions in BiH and donors, DCF members exchanged the information on the new and planned projects, the opinions on their current and future activities, positive experiences as well as challenges they are facing.